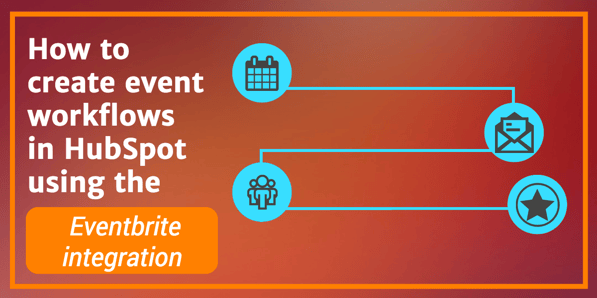 Ever had a looming project or chore that seemed too overwhelming so you just tried to ignore it? Don't let that happen to your workflows. Workflows can seem complicated and scary but they can do so much to help optimize your inbound marketing campaigns.
Whether it's a lead nurturing campaign or a sales hand-off process, once you understand the many ways to use workflows, you'll want one for every goal.
Why should you use workflows for events?
Events, whether in-person or online, play a big role in inbound marketing. These events help educate your audience and provide opportunities for collaboration and networking. They can even be a chance to demo your product or service. Whatever the event, having an event workflow will help optimize your process and simplify your life.
Event workflows help you automate emails to engage your audience leading up to and after events. Event workflows can:
Encourage people to sign up for an event

Send out reminder emails leading up to an event

Prepare event follow-up before the actual event occurs
Each month, our agency leads the Austin HubSpot User Group meetup. We use the Eventbrite integration with HubSpot workflows to promote the events and for follow-up after the event.
How to setup an event workflow with the Eventbrite integration
The Eventbrite integration with HubSpot connects your online and offline marketing efforts. With the integration, you can collect leads, track who's registering for and attending your events, and communicate with your audience leading up to and after the event.
To set up the Eventbrite integration in HubSpot, go to your account menu in your HubSpot dashboard. Select Integrations from the drop-down menu. Scroll down until you see Eventbrite and select the "Integrate with HubSpot" button. Authorize HubSpot to access Eventbrite and vice versa. Sync your events and you're ready to start creating workflows with Eventbrite!


Set a goal for your workflow
Anytime you create a workflow, you want to begin by setting a goal. When users meet the workflow goal, they will be unenrolled from the workflow and marked as a conversion.
When you create a workflow to get people to sign up for your event, your goal should reflect that. In this case, you will want to set a goal according to the registration property.
With the Eventbrite integration, you can track registrants within your HubSpot portal. I suggest setting a goal for the registration property Event Name or Event URL.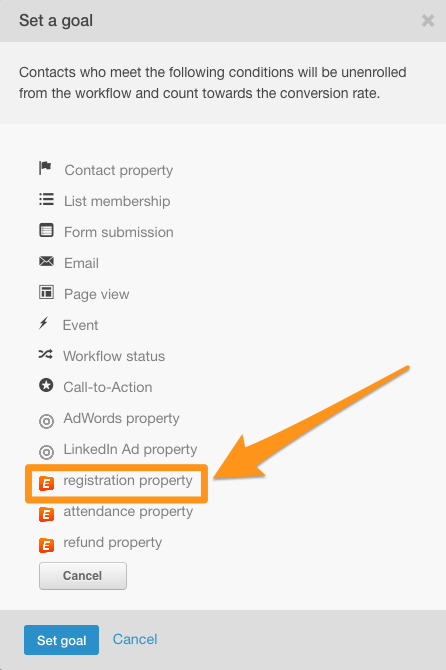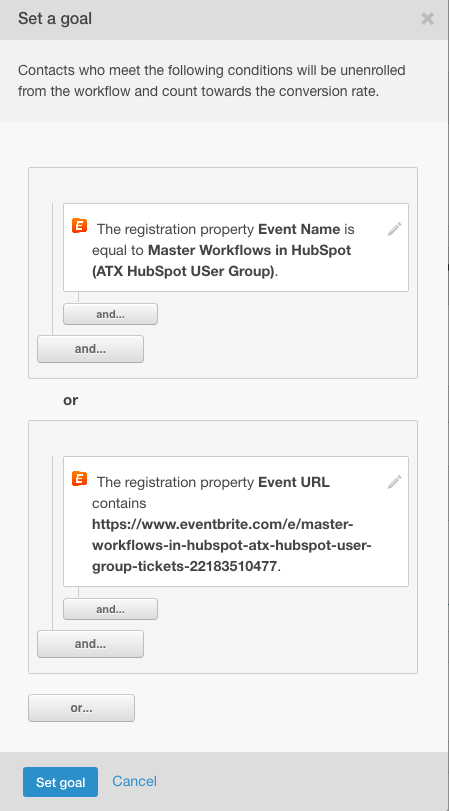 Determine Starting Conditions
Next, you want to determine your starting conditions. This is what will determine which contacts will enroll in the workflow.You can segment this by buyer persona or by contacts who have interacted with your brand in a certain way.
If your business is hosting an event at your offices or a local venue, segment your contacts by location to reach out to those who work in your metro area.
For our Austin HubSpot User Group, we created a list of qualified contacts to reach out to about our monthly events. Anyone on that list will enroll in the workflow.
Next, you will want to center the workflow actions around the date of your event.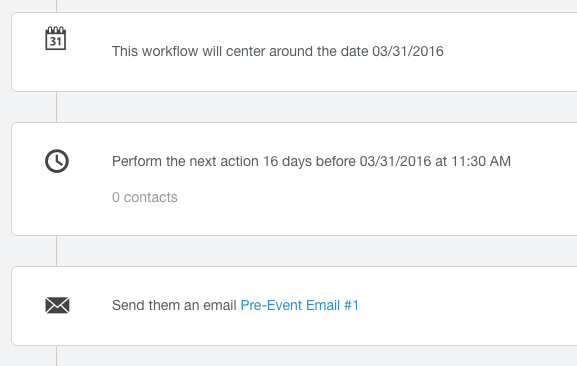 Centering a workflow around your event date will enable you to send a series of emails to prospective participants encouraging them to sign up for the event—without all that math to figure out dates.
As I mentioned, you want to set up a goal for your workflow. When you set up event registration as the goal, anyone who registers for the event will meet the goal. This will remove them from the workflow (so you don't have to worry about bombarding the inboxes of those who have already signed up).
If you want to remind participants about your upcoming event , you can set up a workflow for that as well. (Eventbrite will also send a reminder email). In this case, you would enroll participants in the workflow according to their registration property for your event. You can then create a series of emails to remind participants of the upcoming event and any other details about the event like parking.
Using workflows for event follow up
How many of us have been a host or vendor at an event and collected information from so many new contacts only to find yourself a month after the event without having followed up?
With the Eventbrite integration for HubSpot workflows, you can prepare for event follow up ahead of time. A great way to do this is to set up your workflow starting condition based on event attendance.
Want feedback on a webinar or a meetup? Send an email with a survey that goes out immediately after your event—only to the people who actually showed up.
How do you track this? Using the Eventbrite Neon app, you can check in people at the door and track attendance. You can even sell more tickets at the door if you need to. This app allows you access your event data in real-time as people are checking in. It plays a big role in a successful post-event workflow!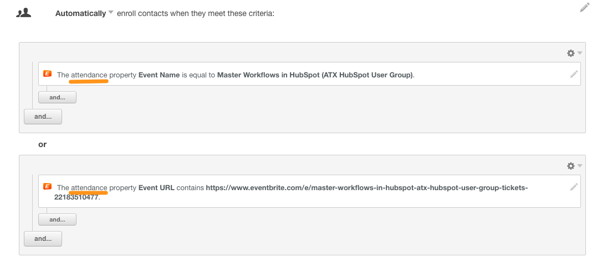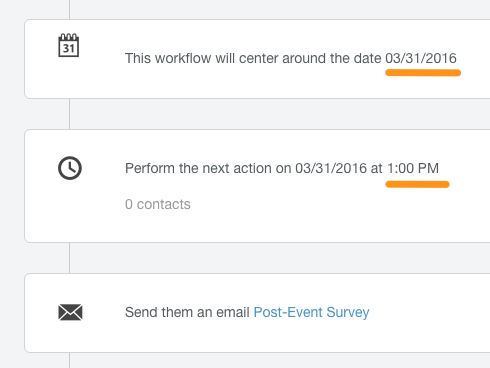 In this workflow, you see that I have the post-event survey go out at 1pm on the event date. This is typically the time the event wraps up. That way, people have the chance to respond to the survey while it's still fresh in their minds. This workflow will also send a reminder email the following day to anyone who did not click-through to complete the survey.
Want to check in with the no-shows? Trigger an email to those who registered for your event but didn't attend. Find out what kept them from attending. Did a last-minute meeting happen or did they get the time wrong? This can help you determine how you can improve your event and communication about your event for the future. You can also encourage those no-shows to make it to your next event.
As a marketer, using workflows for events is a no-brainer. Use this guide for ideas on how to make your event a successful one with HubSpot workflows and the Eventbrite integration. If you're already tackling workflows, tell us how you're using them to optimize your inbound campaigns!

Want more great inbound marketing ideas and guides like this? Subscribe to our blog updates AND get this content creation pack as our gift to you.