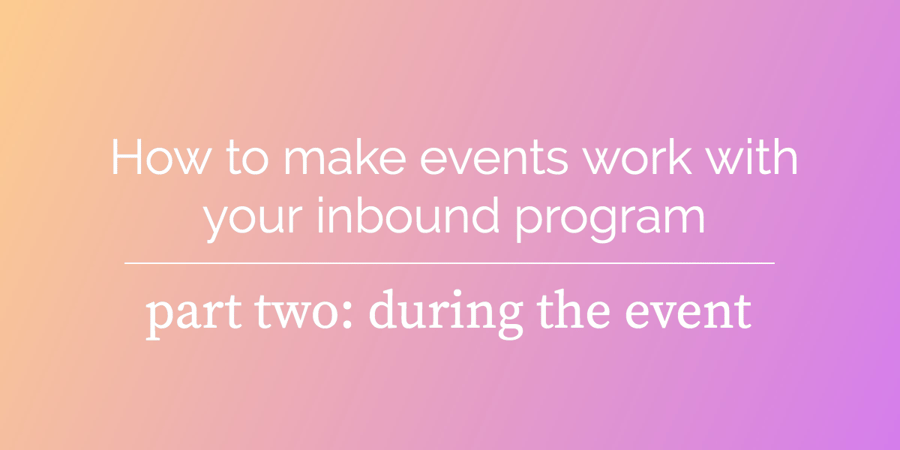 Even if your company is committed to an inbound marketing strategy, you may find that marketing at an event like a trade show or conference is worthwhile. Trade show marketing can be extremely sales-y, but it's possible to approach events in an inbound way so that they support your existing marketing efforts.
In our last article, we talked about how to prepare and position yourself before an event so that you can attract as many qualified leads as possible. But what should you do during an event to make the most out of your investment?
When you're marketing your services at an event, you should have three objectives in mind: to get the right people to your booth, to capture information about them, and to use that information to continue the conversation shortly after the event has ended. Here are some strategies that can help you meet those goals:
Targeted ads
Nearly every person at your event will walk around with their smartphones on them at all times, and the odds are good they'll be looking at Facebook, Twitter, and/or LinkedIn. They may be using these apps to connect with people and brands they've met at the event, or they may just be idly checking out of sheer habit. But either way, their eyes will likely be on one or several of these sites at some point during the event.
Take advantage of this by planning to run ads during the event to let people know where they can find you. Combine geotargeting with the criteria you'd normally use to find the right audience to get the best odds of finding people who are attending the conference. It may also be worthwhile to plan a giveaway (and include information about it in your ads) to drive more people to come visit.
Capture information about leads
Once you've gotten people to visit your booth and chat with your sales team, it's important to make sure you get their information so you can continue the conversation. One way that works for many companies is to keep a landing page open on a tablet for people to enter their contact info (possibly as part of a giveaway).
Another great option is to get your sales team to use HubSpot's business card scanner. Whether they're at your company's booth or walking around meeting people organically, your salespeople can quickly create a CRM contact record simply by scanning a business card. This means they'll no longer have to hold onto dozens of cards or try to remember who they need to prioritize for post-conference communication; instead, they can quickly make notes on a contact record that can jog their memory without missing a beat.
Plan for quick follow-up
After you've captured leads, it's important to follow up with them so your company stays at the top of their minds. One great way to keep the conversation moving is to set up a workflow that sends contacts an email to touch base the next morning, and then another follow-up email a day or two after the end of the event. In the second email, include a valuable middle of the funnel offer, as well as a meeting link so they can set up some time to learn more about how your company can help them.
In the next article, we'll look at some ways to stay in contact and continue providing value to the leads you've met at an event so that they eventually become customers.