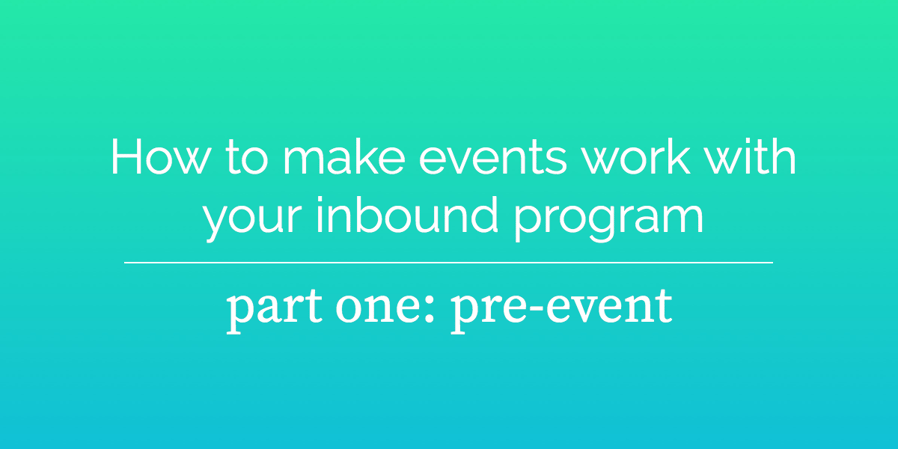 When it comes to finding customers, geography is no longer our master. It's getting easier by the day to communicate and connect with prospects anywhere in the world. Still, in some industries, the best way to start a conversation is with a handshake. In those cases, events like trade shows and conferences offer a unique opportunity to make lots of valuable connections in a short period of time.
Trade shows are also a great filter to help you find your audience; only the people who are really interested in what you do will have gone to the effort of taking off work for a few days, flying to another city, staying in a hotel, and going to events during the week. For marketers, this is a goldmine. Event attendees make up a ready-made pool of prospects who are at least serious, if not fully qualified.
But if your company has adopted and committed to an inbound marketing strategy, and you're not trying to be too "sales-y," what's the best way to approach marketing yourselves at an event? While your short-term goal is to get a lot of visitors to your booth, how can you make sure you have a good plan for maintaining helpful, sales-driven conversations with these leads after the event?
In the next several articles, we'll look at best practices for bringing an inbound approach to events that will allow you to start a conversation with prospects on the best footing, maintain the relationship, and ideally, turn these acquaintances into customers.
First up, let's look at how you should prepare for your event:
Targeting the audience
Sending people to a trade show and hosting a booth can be a costly proposition; you'll want to make sure it's worth your investment. That means ensuring that people know you're there and getting them to come by to visit. But figuring out how to target the audience that's going to be at the trade show can be a challenge.
If you've been to the same show before, then you probably have a list of people who you've already met. Start by reaching out to those contacts first to let them know you'll be at the event.
For events you're attending for the first time, finding an audience to target will take a little more planning. You can start by including announcements in your normal communication channels, such as your newsletter or social media, but eventually you'll want to explore targeted advertising.
If the organization hosting the event is active on Facebook, you can target people who like their page. However, if that list is too broad, you may want to consider adding in other criteria to further refine your audience.
Set up awareness ads to get visibility in front of this audience, and direct them to a landing page where they can sign up for updates from the show. If you have something you plan to announce, or if you're hosting a giveaway, include that in your messaging as well.
Finally, some events still offer you "the list"— either as part of your booth agreement or separately for purchase. "The list" can be appealing, but beware; while the organization putting on the event likely included fine print about selling attendees' information to third parties, that doesn't make these people happy to hear from you. If event organizers offer to send out something on your behalf, that's a better option. This can help drive people to your site or to your booth, but you won't risk upsetting people nearly as much.
Plan a smaller event
When you're establishing a presence at larger conferences or trade shows, you may want to consider having a dinner or some sort of invite-only event. This is a good way to make sure you get face time with the people you're most interested in. Assuming your sales team is in attendance (and some of them ought to be), you can work on driving qualified people to this event. This also feels more personal, and it equips your team with a talking point that isn't immediately focused on making a sale.
If possible, try to arrange for some of the conference speakers to join as well. They'll most likely enjoy getting to discuss their topics with a small, engaged group, and it can raise your profile with high-value prospects.
This strategy is popular for good reason: it works.
Planning for success
Leading up to a trade show, you want to make sure you've got good content and programming to get people interested in your booth. Sending out a bunch of generic messages saying "visit us at booth 206!" won't be enough to get the right people to engage with you at the event. With some strategic planning and the right preparation, you can make sure you start your event on the right foot.
In the next article, we'll look at what you should do during trade shows and conferences to start useful conversations with prospects. Subscribe to the Pyxis blog to have this and other future articles on inbound marketing and sales best practices delivered straight to your inbox.